Click the Battle Royal button, located at the top right of your screen, to access the Battle Royal panel. Read below for more details on the unique Battle Royal event!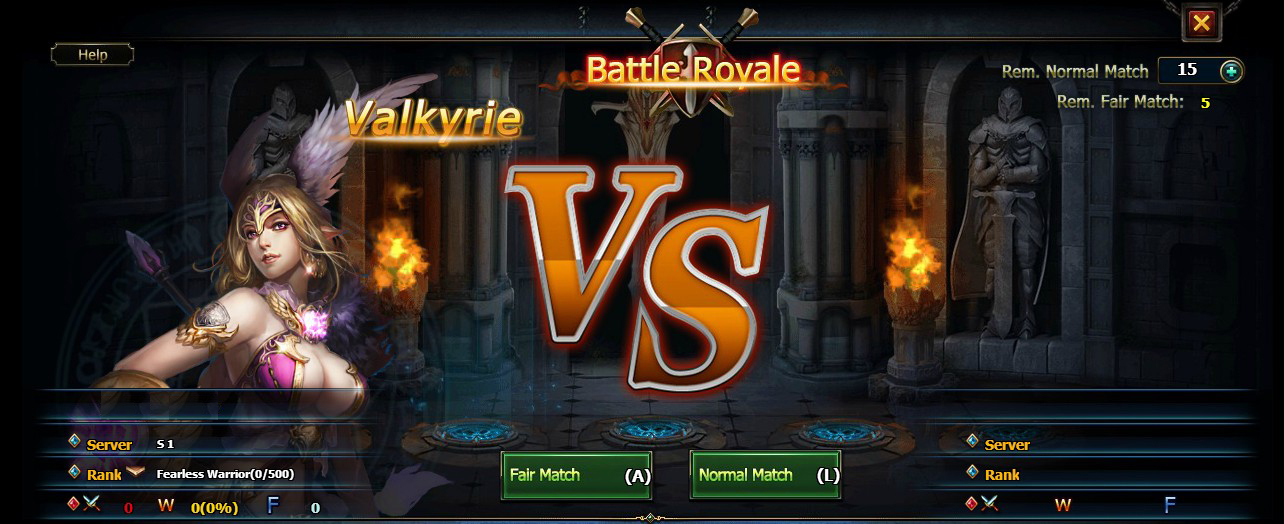 1. No AFK mode available, you've got to fight yourself! Prove your skill to all!
2. Select a match option to be matched with an opponent.
3. Fair Match: System will set player attributes (such as HP and MP) automatically and players cannot fight with their sidekicks. The first 5 matches each day reward player with SP (winner receives more).
4. Normal Match: Players fight with sidekicks and will be automatically matched against players of similar rank. The first 15 matches each day reward player with Rank EXP and SP (winner receives more).
5. After daily attempts are used up for both players can use Diamonds to buy more attempts for Normal Matches.
6. Rewards cannot be gained from these matches but the outcome will still influence players ranking.
7. Players will automatically lose battles if they exit the battle without finishing. Ranking will also be affected by leaving a battle prematurely.
8. Earn Glory through matches to improve your rank. Rank levels in ascending order are: Fearless Warrior, Dark Iron Fighter, Bronze Champion, Silver Guardian, Golden Savior, Holy Knight, and Holy Blade Duchess. Different amounts of Diamonds will also be sent to you daily based on your rank.